Do you want to lease our storage containers?
Since 2018, Universal Storage Containers B.V. has its own leasing company. This means that we can always make a descent lease offer. You will receive a suitable quote from us quickly and we also have a flexible acceptance policy.
Operational Lease
You rent the storage container for the entire term and after the lease term there is the possibility to become the owner of the property. During the lease term, all lease amounts can be increased in the profit and loss account. We can also insure the storage containers during the lease period.
You pay an initial lease instalment of 15% of the purchase amount and then lease the storage containers for a period of 48, 60 or 84 months. After meeting all lease terms, you have the option to buy the containers. After that, you are both legally and economically owner of the storage containers and, if properly maintained, they can last for years to come.
Leasing our storage containers can therefore be very interesting. The benefits at a glance:
Freely disposable capital by lease
■ Leasing € 50,000 means € 7,500 down payment or € 42,500 freely disposable capital during the lease period. At the end of the lease term, the conclusion is intended to buy the containers, if necessary.
■ € 100,000 means € 15,000 down payment or € 85,000 freely disposable capital during the lease period. At the end of the lease term, the conclusion is intended to buy the containers, if necessary.
Lease advantages
■ You can start using storage containers at a relatively low investment.
■ You can use up to 7 times as many containers for business activities.
■ Capital remains available to finance the company's growth.
■ There remains financial space to invest in existing or new locations.
■ You can use the capital for other investments.
Lease costs
In the coming years, lease is still very attractive because of the low interest rates.
■ Leasing for 48 months costs about 7 of the purchase amount.
■ Leasing for 84 months costs about 11 of the purchase amount.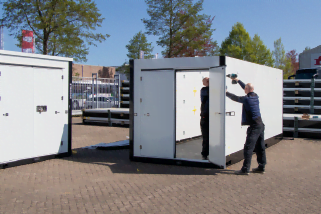 Assembly
We have our own professional construction team with a lot of experience in both the assembly and installation of container parks. Our team delivers the containers completely turn-key. The occupant can move in the same day.
In addition to assembling our containers, our construction team also provides them with power and lighting if required. Our team is able to assemble and place dozens of containers in just a few days. The assembly and placement of the containers is included in the price.
We move the containers with a (local) forklift truck and, if desired, install the solar panels on the roof.
Marketing boost
If you want to grow with your business, we would like to think along with you.
Of course, you prefer to rent out the available storage space as quickly as possible and keep the occupancy rate as high as possible. To be able to expand further after that. Of course, this does not happen by itself. You will need to invest time and financial resources to bring the product to the attention of (potential) customers.
We can well imagine that you can't always free up enough time or have insufficient information to determine which marketing tool might work best for your business.
Because of our extensive experience in the storage industry, we have knowledge of a number of effective marketing strategies that your company can use to get the desired attention from the target group(s). We can support you with that.
When you have placed an order with us, you can use our expertise. If desired, we will take a closer look at your specific business situation and then make a plan for our account manager. This is all included in the price! There are many marketing tools to use where we can support you. These include:
· Telephone acquisition
· Webdesign
· Flyers and stickering
Telephone acquisition
In order to be able to use this tool successfully, a good plan is needed. An indispensable call list of local companies where your target group is a customer is indispensable. We set up an action to make these companies your 'ambassadors'. Can you put up a poster? Can you put flyers there? Perhaps they also have an interest in some extra storage space? Asking the right questions is important, as is being prepared for possible counterarguments that the caller can bring in.
Our account manager has years of experience in telephone acquisition and is therefore specialized in this. We are happy to use this expertise for you.
Webdesign
To stimulate your local findability, we can design a website for you. Our designer provides you with a fresh design, in line with the corporate identity. Moreover, our websites are always fully responsive (so suitable for mobile, tablet and desktop).
Flyers and stickering
Our designer has a lot of experience in designing flyers and branding material for storage parks. For example, he can design flyers and stickers in your own corporate identity. The stickers can be placed on your Z-Boxes, so that they are in line with the corporate identity of your company.