First online fair FEDESSA was a special edition
On 6 and 7 October 2005, the the first online fair of the Federation of European Self Storage Associations (FEDESSA) took place. Normally, the FEDESSA organizes an annual fair, every year in a different country. Last year we were together with our American colleagues to be found at the trade show in London. This year the fair was due to take place in Lisbon, but it has been postponed until 2021.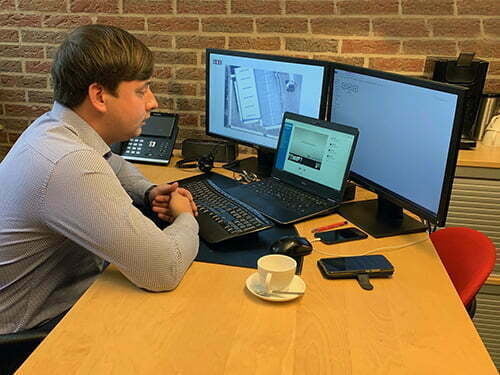 Round Table/Specialist Session
We are present every year at the fair as a sponsor and exhibitor, also at the first online version of the fair. What did this mean to us? On both days we had a so-called 'Round Table/Specialist Session' with the subject: "Added value of Container Storage Near a Building'. In other words, the added value of container storage next to a building. Of course, we are the right people to tell you why container storage adds value to your storage company. With more than 140,000 containers sold in the U.S. and Canada alone, we can call ourselves experts in container storage.
Storage Park Tour
What does such a 'Round Table/Specialist Session' look like? My colleague Maarten was outside in front of our Storage Park in Deventer near Salland Storage in front of the camera. I sat in my office in front of the webcam and arranged background checks during the webinar and answered questions together with Maarten. There were many questions about our Storage Park, which is why Maarten walked his webcam across the grounds and showed all the corners of our Storage Park. The enthusiastic reactions were very nice to hear, and we have some interesting new contacts left to them.
The fair discussed topics such as; Google advertising, offline marketing, customer loyalty, social media, pricing, growth, security, the economic impact of COVID-19 and the annual report on the state of the European self storage industry. The speaker who has stayed with me the most is the one who, to my knowledge, has no affinity with self-storage, namely: Clive Woodward, a national rugby hero in the United Kingdom.
Winning teams
Clive talked about how the business world can learn from high-performing sports teams. His comparisons between the rugby players in the team he coached and the staff under a manager in any company appealed to me. Clive emphasized that every high-performing team consists of high-performing individuals. A team is only a winning team if each individual gets the best out of themselves every day.
As someone with a sales background, I find myself very good at this. Before we complete an assignment, the entire team worked on it. Everyone's qualities are max used and when someone cannot solve something, there is always a colleague ready to jump in.
Next year we will hopefully be 'just' at the Lisbon fair again to answer all your questions in real life and catch up during the networking meetings. We're looking forward to it.
Not present at the fair but curious about our Storage Park and all the possibilities that this can offer you? Make an appointment quickly.
Mark Elsendoorn, accountmanager