9 tips to set up a good self storage website
A website full of bells and whistles might look nice, but is it also suitable for your self storage company? Learn more about how to design a website that attracts potential customers and entices them to rent.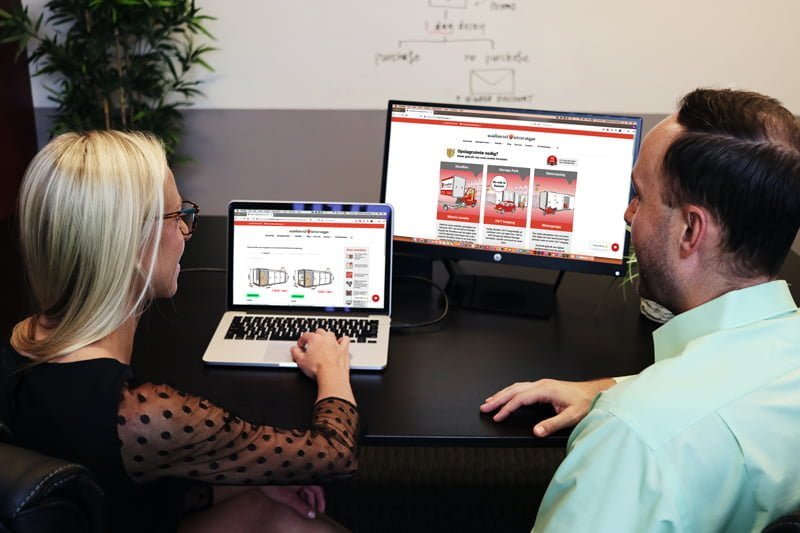 In the search for a website that combines a beautiful design with fast loading performance and the right content, administrators of self storage companies sometimes forget the most important thing: do visitors become paying tenants? Customer conversion should be the primary focus during each step of the web design process. Let's look at some important principles and steps to increase the effectiveness of your website.
Mistakes to avoid
1. No clear path to conversion
Again, customer conversion should be at the heart of your efforts. Many self storage websites have such a busy layout and sending messages that users can easily get lost. When someone ends up on your website, you want the interactions and experiences to lead to a positive conclusion. Think of it as a funnel. You want to lead visitors along a path that encourages them to rent a space from you.
2. No understanding of the buyer's journey
Make sure you have a clear idea of why your current tenants are renting from you and what is important for customers when renting storage space. Once you know that correctly, see if the website does indeed contain the most important information that potential customers need to make the choice for your business.
3. Too much or too little content
Self-storage websites often contain an insane amount of content or so little information that they do seem 'under construction' and therefore appear to be little relevant. Both shapes deter visitors. Strive to find a good middle ground that puts quality above quantity and informs customers about what they think is most important.
Now that you know what to avoid, we're going to look at how to turn a website into a conversion tool by looking at design elements, content, and timely customizations.
Function and design
An effective self storage website should have a solid technical construction, handle a style that is pleasant to the eye and provide a good user experience. This is the basis for success. Let's go a little deeper into it.
4. Page speed
You can't afford for your website to slowly load content or pages. After all, visitors usually have little patience and will quickly move on to a competitor. In addition, Google's algorithm takes page speed and loading times into account when search results are displayed.
5. Security
To ensure that tenants can rent units or pay their invoice online, your website must be suitable for secure and privacy-proof payment processing. This is essential for your business, so make sure it's properly arranged.
6. Mobile-friendly
A mobile-friendly website is crucial. Now that more than 50 percent of all web traffic comes from mobile devices, Google first indexes and prioritizes the mobile version of your website. When customers search for storage space, in many cases they will probably do so via their mobile phone. If your site doesn't look good and performs poorly on mobile devices, you have a big drawback.
7. Look and feel
Your website should look professional and radiate a certain peace. Some people may fall in love with all the little details on websites, but simplicity is by far preferable. Renting a unit should be a quick and easy process and that's how your website should feel when customers navigate the pages. Here are a few quick tips:
· Don't build too many pages. Instead, focus on the core information.
· Don't stuff your pages with all kinds of design elements.
· Make the navigation tabs clearly visible.
· Use multiple call-to-action buttons to make it easy for visitors to rent a unit, call or email you for additional info or whatever.
8. Color scheme
Keep this sober too, but that doesn't mean it should get boring. Choose colors that fit well together and contrast well with the background of the website. Do they match your company colours? Avoid using many bright colors. Rather, choose colors that stand out without being dominant or disruptive.
9. Customer conversion
To ensure that your site is set up in such a way that visitors are effectively directed to customers, you need to define what 'conversion' means for your self-storage operation. I suggest you take a varied, balanced approach. It's best to take customers off your website in different ways, but prioritize online rentals and phone calls. Also, make sure your conversion process is quick and easy. If you build in too many steps to complete a rental form or process, customers drop out.
With conversions, the biggest mistake you can make is that you don't keep track of the visitor data properly. This information is essential to your marketing efforts and it all starts with your website. Set Google Analytics and goals achieved for your website so you can track performance. This provides clarity about what is going well with your website and what needs to be improved.
Next time: Which content is most suitable?
Want to know more? Call our marketing team 06-39821945 or mail to m.elsendoorn@universalstoragecontainers.nl.