Interview with Alfred Hissink, owner of Storage Zelhem
Recently we delivered a number of Z-Boxes in Zelhem. Owner Alfred Hissink started here with a storage park next to his company in garden lighting; Storage Zelhem. Read more about his first experiences in the storage world and how you can quickly turn an unused piece of land into a well-performing storage park.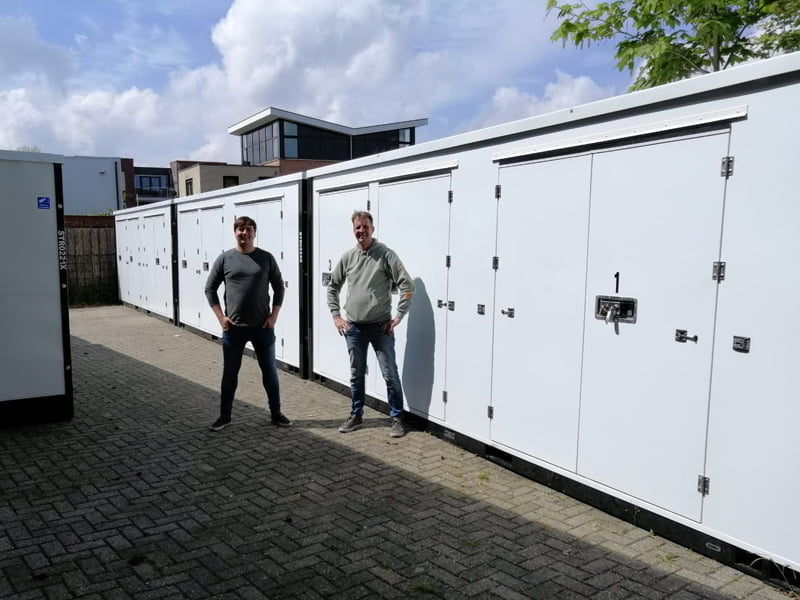 What kind of company do you have?
'I've been working for many years with my company Extensa garden lighting, whose products I sell all over Europe. I started from home in Zelhem at the time, grew slowly, got staff, bought a building and a plot of land.'
How did you get to USC?
'I got in touch with USC through my Forwarder. One thing led to another, I had some space left on my property and was like, 'Why not?' Let me try it with some containers. After all, it is an extra income for me and the financial risks are very small. I opted for a lease construction through USC.'
How many containers do you have?
'I've got 15 units now. If it works, I want to expand to 45 units, because I don't have more space. The risk is limited for me anyway. By the way, I've already rented out a few units and USC is getting started in marketing support, so I can get full quickly.
I didn't look at other containers or possibilities at all. I just really like the Z-Box. I immediately liked the idea of container storage and I thought there would also be a demand for it in this region. There is little supply in this area here in the area.'
Have you purchased any secondary products?
'I've taken a few ramps. I'll build power myself in due course, I'm an electrician from home so I'll be fine.'
How did the placement go?
'It's all gone well. The delivery of the containers was a bit delayed, but in this case I didn't care much. By the way, I'm used to that delay with the containers from Asia that contain garden equipment. It's more that customers have less understanding of delays.'
What's your impression of professionalism at USC?
'At USC, Mark is my contact person and he guides the project very well. He's enthusiastic, he's fulfilling his commitments and I've got all the help I needed.'
What do you do about communication/marketing?
'We've created a website www.opslagzelhem.nl for the rental and soon I want to do something about Adwords, not too much because my rental offer is of course limited with 15 units. I'll put an ad in the local door-to-door magazine. USC also provides a flyer and poster for Storage Zelhem to support me with offline marketing.
I sit with my company directly opposite the hardware store, so that a lot of people already pass by my company. I'm going to put up a big sign soon with 'Storage Zelhem' on it, so I expect some run-up from that angle.'
___________________________________________________________________________________________________________
Also an unused piece of land? So you can do a lot with that! Ask us about the possibilities.