Welcome back, customer group!
In the Netherlands recently a supermarket commercial was shown starring a supermarket manager, actor Harry Piekema, welcoming customers who had been away for years, but finally returned to his supermarket. There may also be a 'welcome back' to your storage facilities.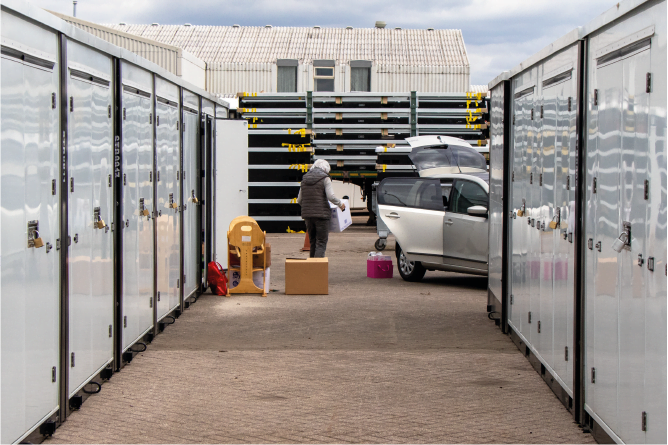 From buyer's market…
In recent years, the housing market has been out of balance. With little supply, high prices and above all high demand, there was a real seller's market. People were more concerned about the purchase of a suitable new home than about the sale of the current site. The sellers were therefore on the move and buyers mainly settled according to their demands. The temporary storage of items due to a bridging period was hardly an issue anymore. At Salland Storage, such customers were scarce. Until last month…
via corona crisis…
Rabobank housing market expert Nic Vrieselaar: "In recent years, people first bought a new house and then put their own house up for sale. As a result, there was very little supply. Now it could be that because of the uncertainty the current house is already offered, so that you can be sure that you can bet the excess value for a new house. As a result, the offer increases."
NVM Chairman Onno Hoes on the changing housing market: "Normally people don't mind sitting with two houses for a few months, but now they don't want to take any chances. There are people who were planning to put their house up for sale in the future and have now brought it forward for a few months as a precautionary measure, because they think there might still be a crisis ahead."
….to storage market
At the beginning of April, the first customers stood at our gate with the story that they wanted to put their house up for sale because of the uncertain times caused by the corona crisis. For this, their house had to be made ready for sale and they already took into account the rent of a temporary house and then search for a permanent accommodation. Meanwhile, more than five customers with a similar story have become tenants.
I would advise you to take into account the return of this target group that has been away from us in Deventer for years. That's how the corona crisis might bring us something else. 'Every disadvantage has its advantage', could be discussed here…
Jan-Hein Streppel